The New Scott Solace eRide
It has been a while since the last version of the Scott Solace was around and it has undergone some changes since we last saw it. Previously the Solace was an endurance road bike, but the new version sees the Solace being updated to become two electric bike options; an electric gravel bike and an electric road bike. All of the new Solace models feature the TQ HPR50 motor, which provides a weight/torque ratio of 1.8 kg for 50Nm. Unlike other electric gravel bikes and electric road bikes, the TQ system is also very lightweight meaning full bikes can weigh in at as little as 11.8kg/26lbs.
The new Solace provides a versatile platform with generous tyre clearance for gravel riding, but can also deal with road riding just as well. The Solace uses geometry inspired by the Scott Addict Gravel to provide an efficient, smooth ride. As a lot of cyclists who own an e gravel bike are going to want to spend a lot of time in the saddle, the Solace has space for a 160Wh range extender which sits alongside a standard water bottle cage and boosts the power of the internal 360Wh e bike battery.
Below are some of the main features of the Solace eRide road e bike and gravel e bikes ranges.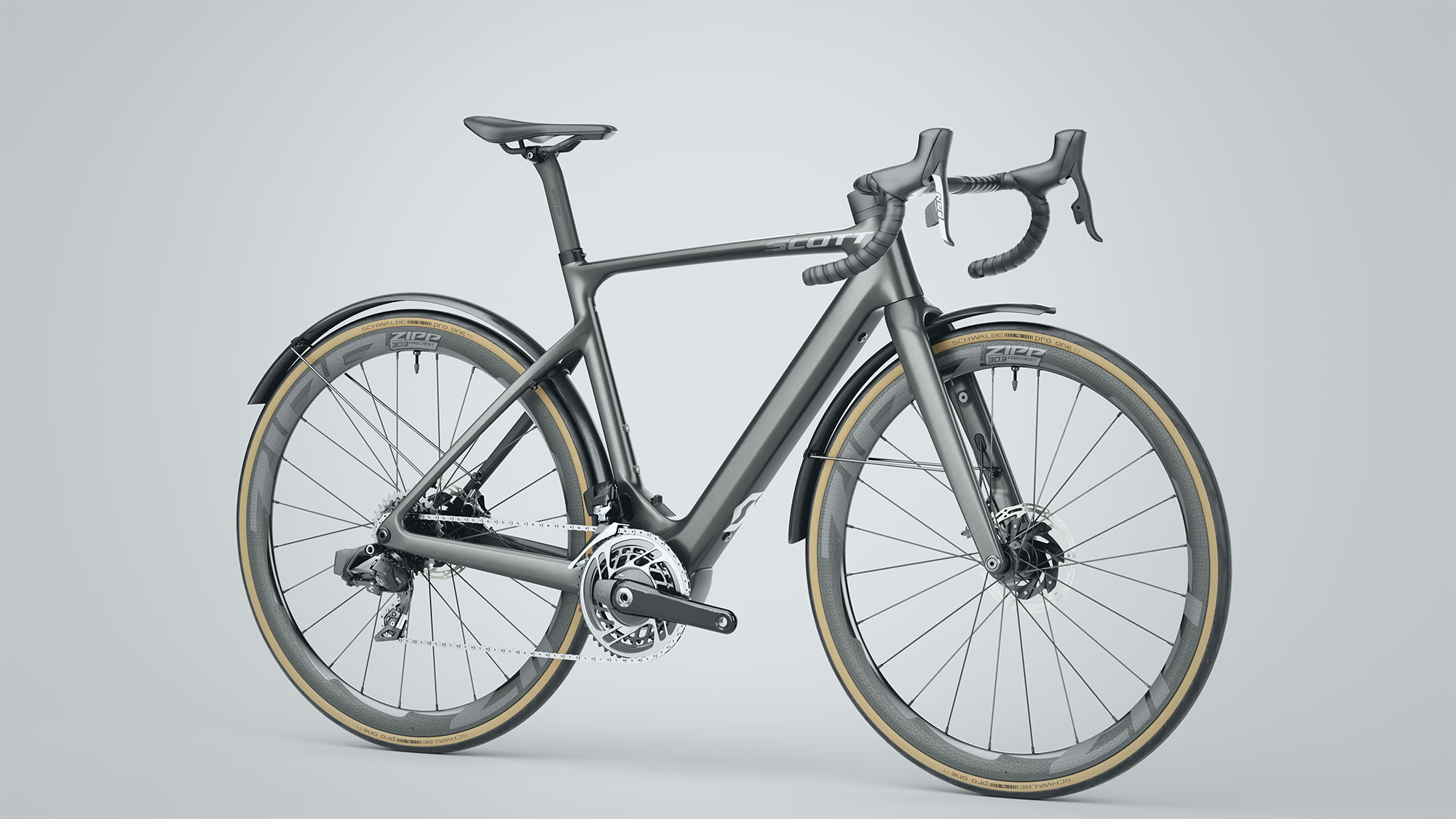 Syncros mudguards are available for the Solace road and gravel models.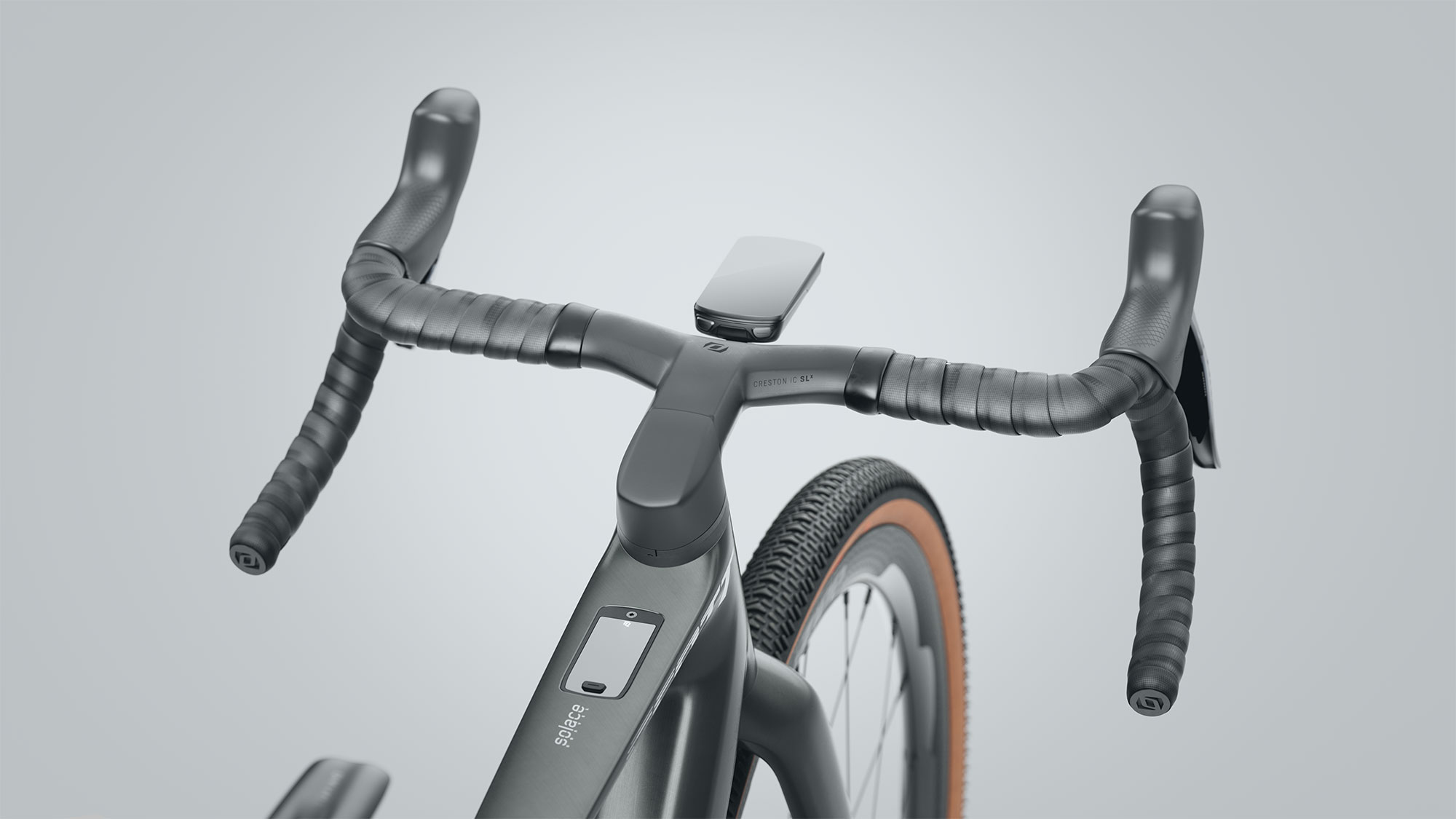 All of the Syncros handlebar and stem combos fitted to the Solace electric bikes are compatible with standard Syncros Garmin mounts.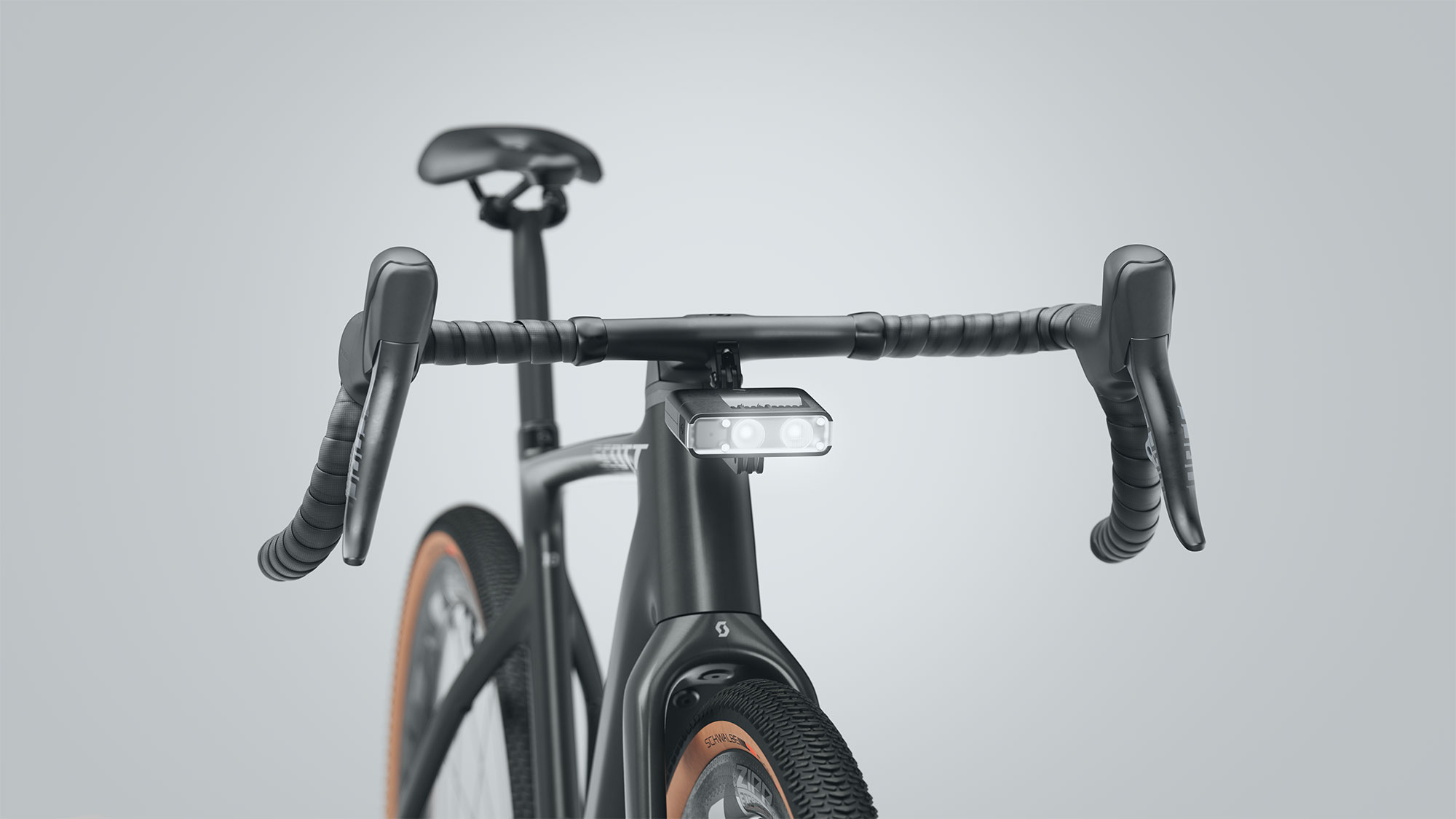 Compatible lights can be plugged directly into the top tube smart box to use the main battery.
The Scott Solace eRide Range Highlights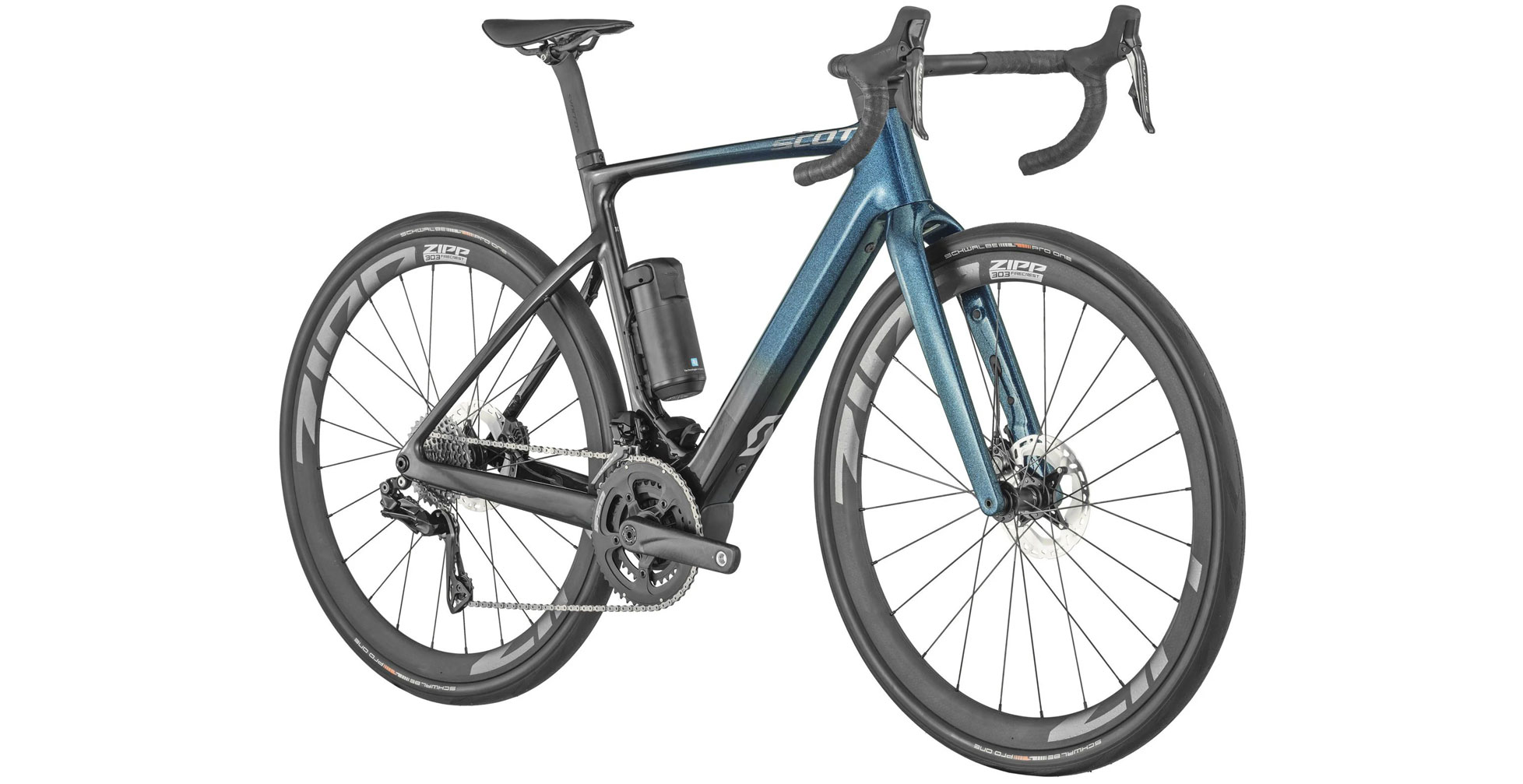 Brakes: Shimano BR-R9270 Hydraulic Disc
Handlebars: Syncros Creston iC SL, Carbon combo
Saddle: Syncros Belcarra Regular 1.0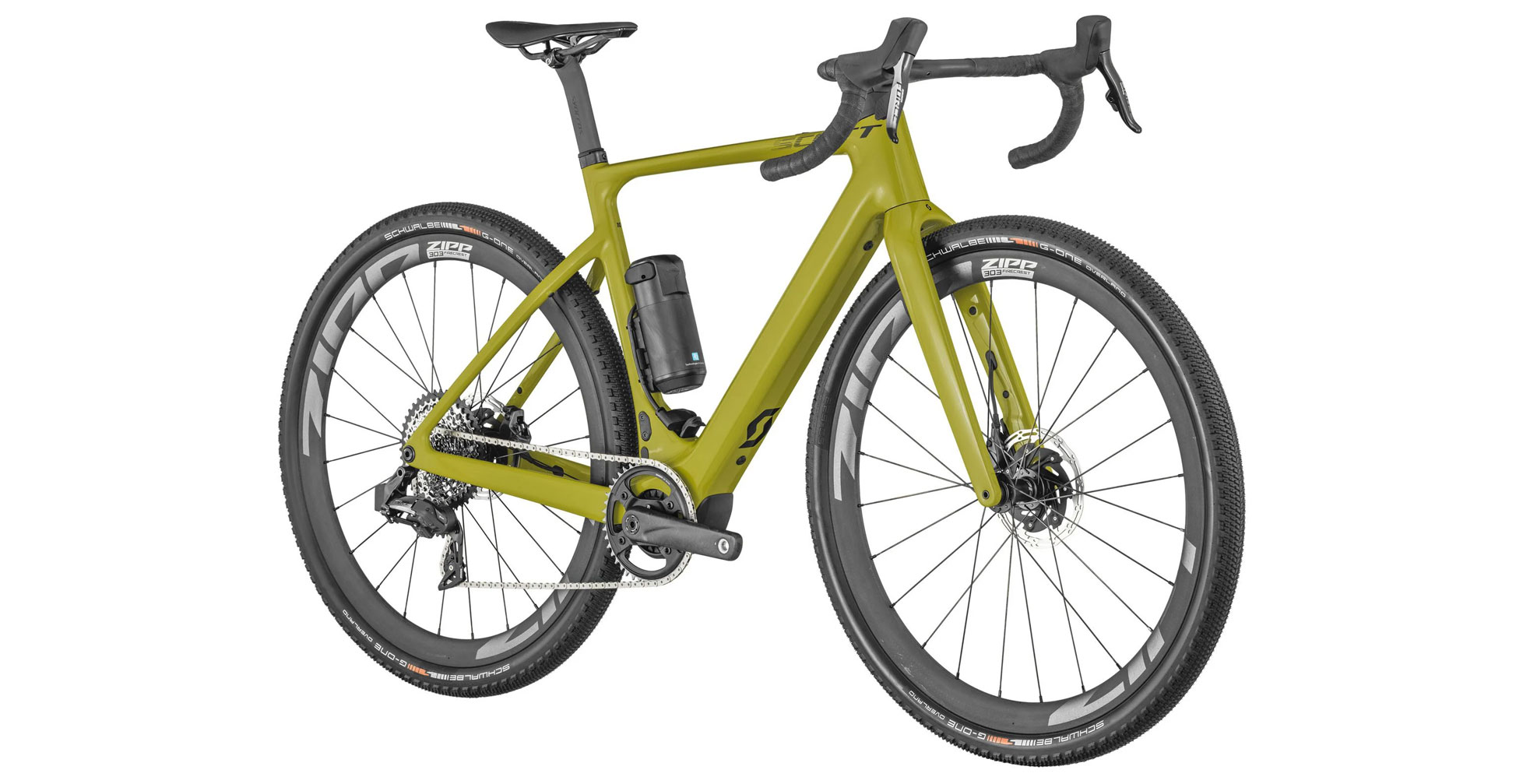 Rear Derailleur: Sram Force XPLR eTap AXS, 12 Speed Electronic Shift System
Wheelset: Zipp 303 Firecrest Carbon tubeless
Brakes: Sram Force eTap AXS HRD Shift-Brake System
Handlebars: Syncros Creston iC SL X, Carbon combo
Saddle: Syncros Tofino Regular 1.0 Cutout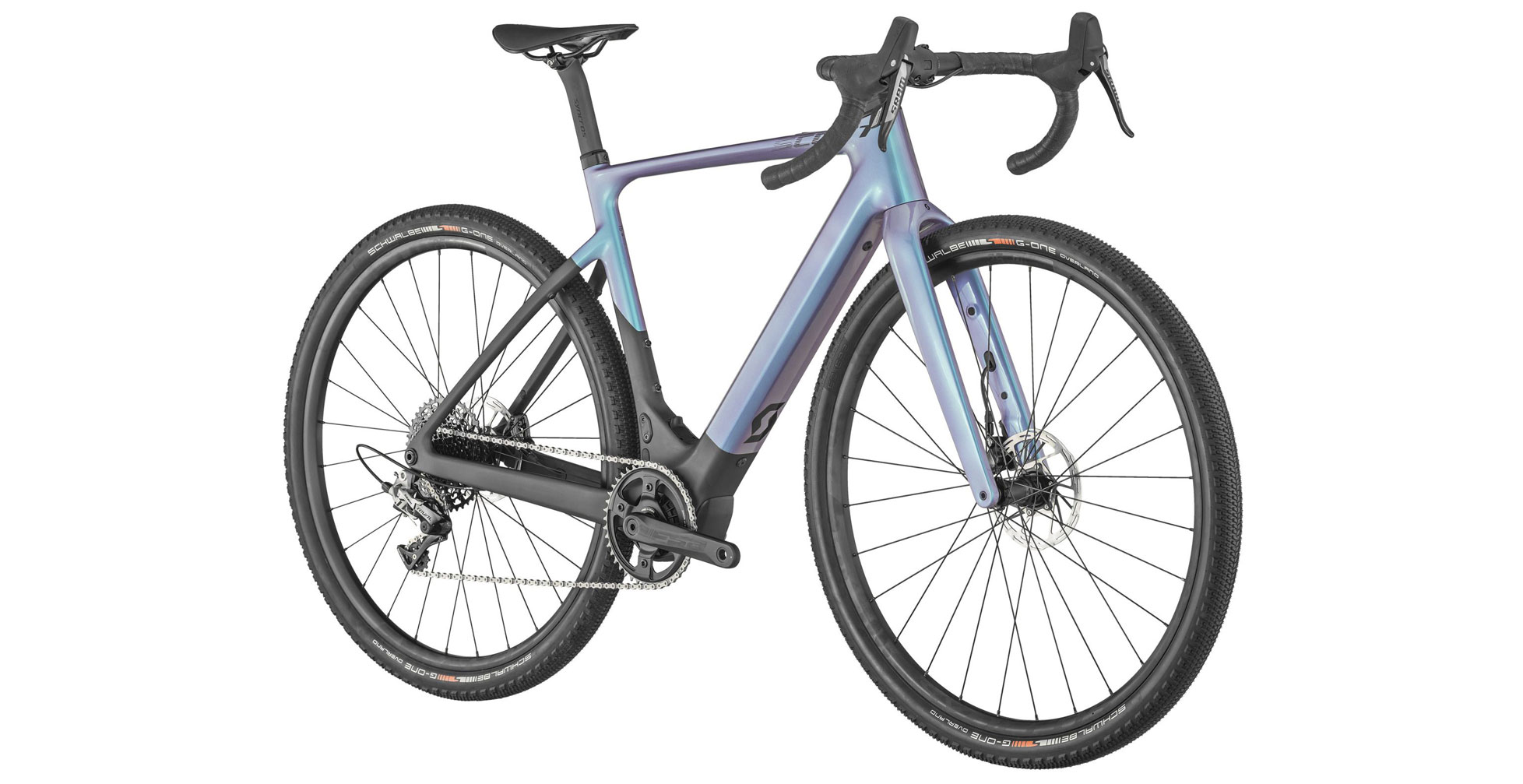 Contessa Solace Gravel eRide 15
Rear Derailleur: Sram Rival 1, 11 Speed Mechanical Shift System
Wheelset: Syncros Capital 2.0 25e Disc
Brakes: Sram Rival 1 Shift-Brake System
Handlebars: Syncros Creston 2.0 X, Alloy 31.8mm
Saddle: Syncros Tofino Regular 2.0 Cutout
Scott Solace eRide Geometry
The geometry of the Solace eRide is the same whether you choose the e gravel bike or e road bike version. They borrow from the tried and tested Addict Gravel, which is already an accomplished gravel bike in it's own right.
If you would like more information about the Scott Solace eRide range, then please get in touch and we'll provide you with the most up to date information available.