Apidura Bags At Westbrook Cycles
The name "Apidura" tells you everything you need to know about this brand. Coming from Latin, "Dura" means "Durable" and that's exactly what you're getting from these high quality bikepacking bags. Their philosophy is for you to buy once and get a product that is built to last; something that is compounded by their repairs policy. The "Api" portion of the name is Latin for bee, reflected by the brand's logo. Bees can band together or work alone and generally make the world a better place, so this is the perfect symbol for cyclists and the Apidura company. The founders of Apidura are bikepackers themselves and so they have a vested interest in creating products they would use on their journeys, which really aids the credibility when spreading the word about bikepacking.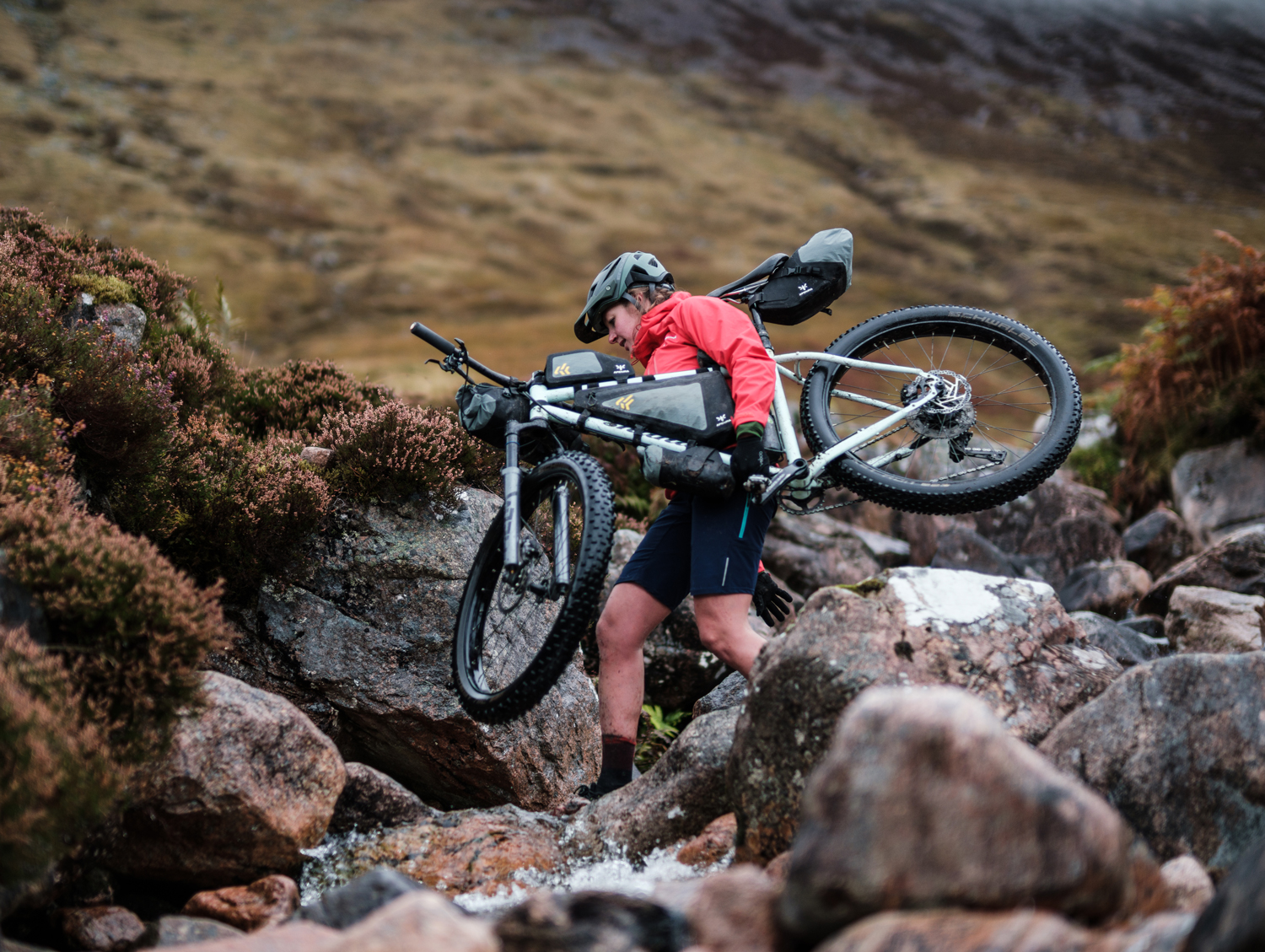 What Is Bikepacking?
In its simplest form, the term "Bikepacking" refers to a cross between multi-day self-supported backpacking and cycling, usually off-road. This is of course a catch-all term, and as is quite often the case it can be broken down into more specific segments. The two largest flavours of bikepacking are ultra-racing and expedition or touring. Ultra-racing can vary in length, but can be over several hundred miles, all against each other and the clock. Expedition or touring bikepacking refers to a more relaxed approach where people can take the time to enjoy the experience, effectively having the freedom to ride wherever they choose.
So what is the difference between bike touring and bikepacking? With bike touring it is very common that routes will be largely, if not completely, on-road meaning a standard road bike or hybrid bike could be used with the likes of panniers or a handlebar bag. Bikepacking routes are usually off-road, meaning hardtail or full suspension mountain bikes are usually the bikepacking bikes of choice. Bike touring also doesn't have the focus on being self-sufficient that bikepacking does, so acccomodation can be sought in a local b&b or hotel, rather than travelling with a tent.
Apidura Bags
Although so far we have put the emphasis on the bikepacking bags that they produce, Apidura bags are not confined to bikepacking exclusively. There are a number of products that will fit perfectly on your road bike, gravel bike or mountain bike, so here we'll look at some highlights of the range.
The frame bag is one of the most versatile of the Apidura bags. Available as a half-frame bag (pictured) or a full frame bag, these can be used for anything from carrying batteries for bike lights to camping equipment. A separate hydration bladder can be added to these bags to further increase their usefulness. The model shown here is the Apidura Expedition frame pack.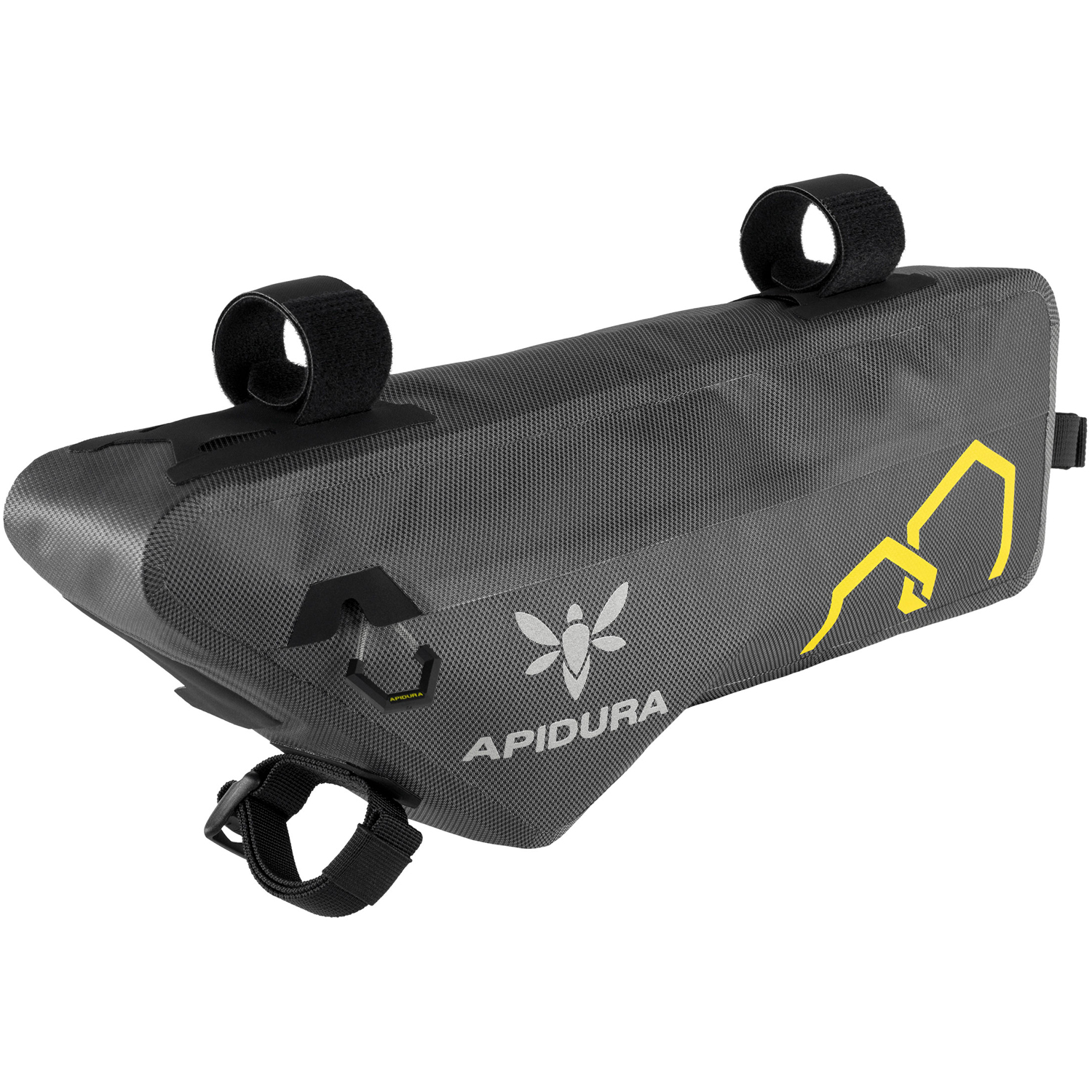 The top tube bag is ideal for those looking for a little extra storage space to stow energy food, CO2 inflators, puncture repair kits, sandwiches, etc... The pictured model is the Racing bolt-on top tube bag, which attaches neatly with a single strap around the stem spacers and the two bolts into the top tube. The Apidura top tube bag range is also fully waterproof, keeping everything inside safe from the elements.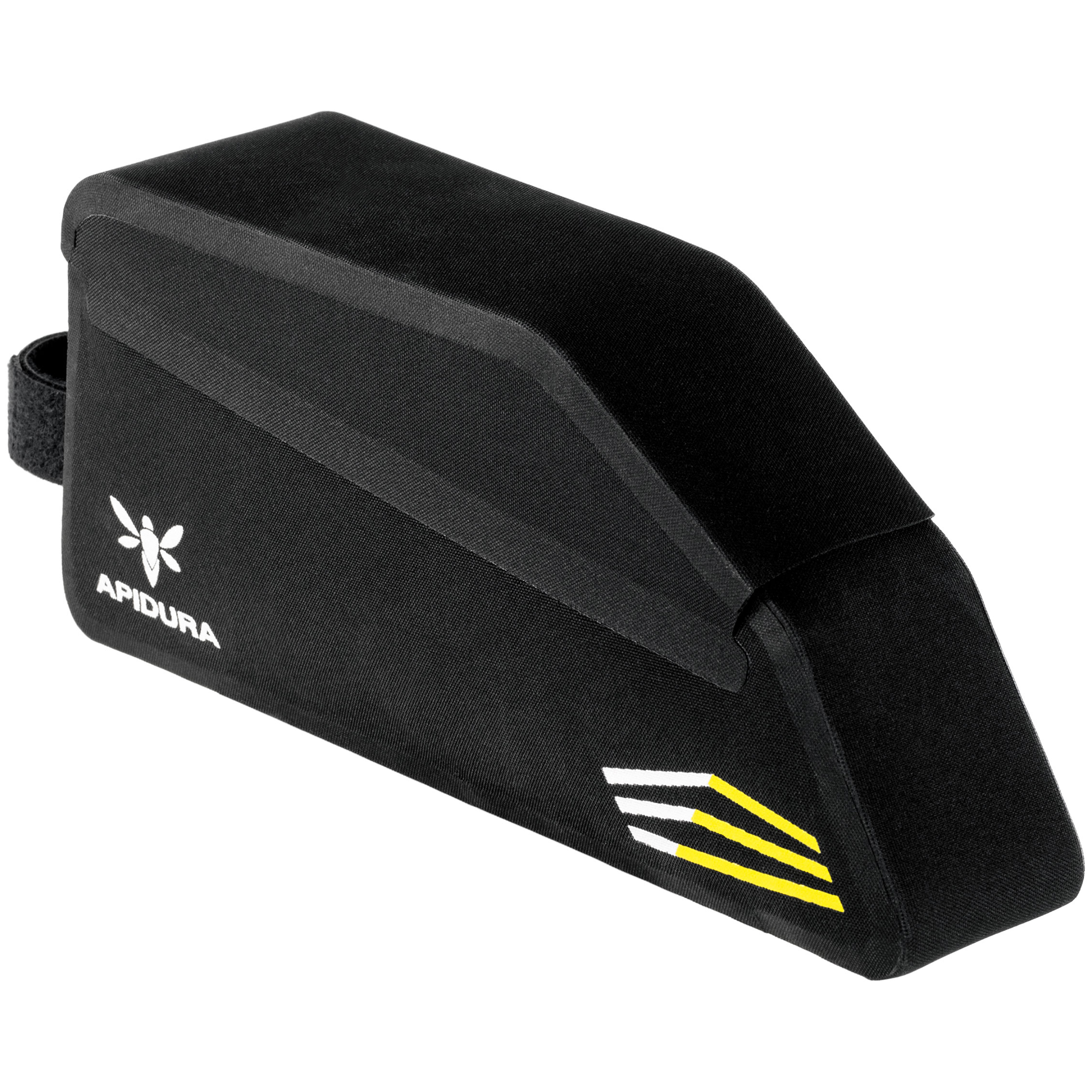 An essential for any serious bikepacker, this Apidura Expedition saddle bag has 14L of storage capacity, tear-resistant, waterproof fabric, welded seams and a secure, three-point attachment system to ensure that the bag doesn't sway while riding fully packed. The Apidura saddle bag range can be used on mountain bikes, road bikes and urban bikes, and often include a rear light mount for extra safety.
The Apidura handlebar bag is available in a number of different sizes and models. The model shown here is the 2L Racing handlebar bag, aimed at those trying to travel as light as possible against the clock. Also available are the mountain bike focused Backcountry handlebar bags and the versatile 14L Expedition handlebar bags. As with almost all Apidura bags, the entire bike handlebar bag range is fully waterproof.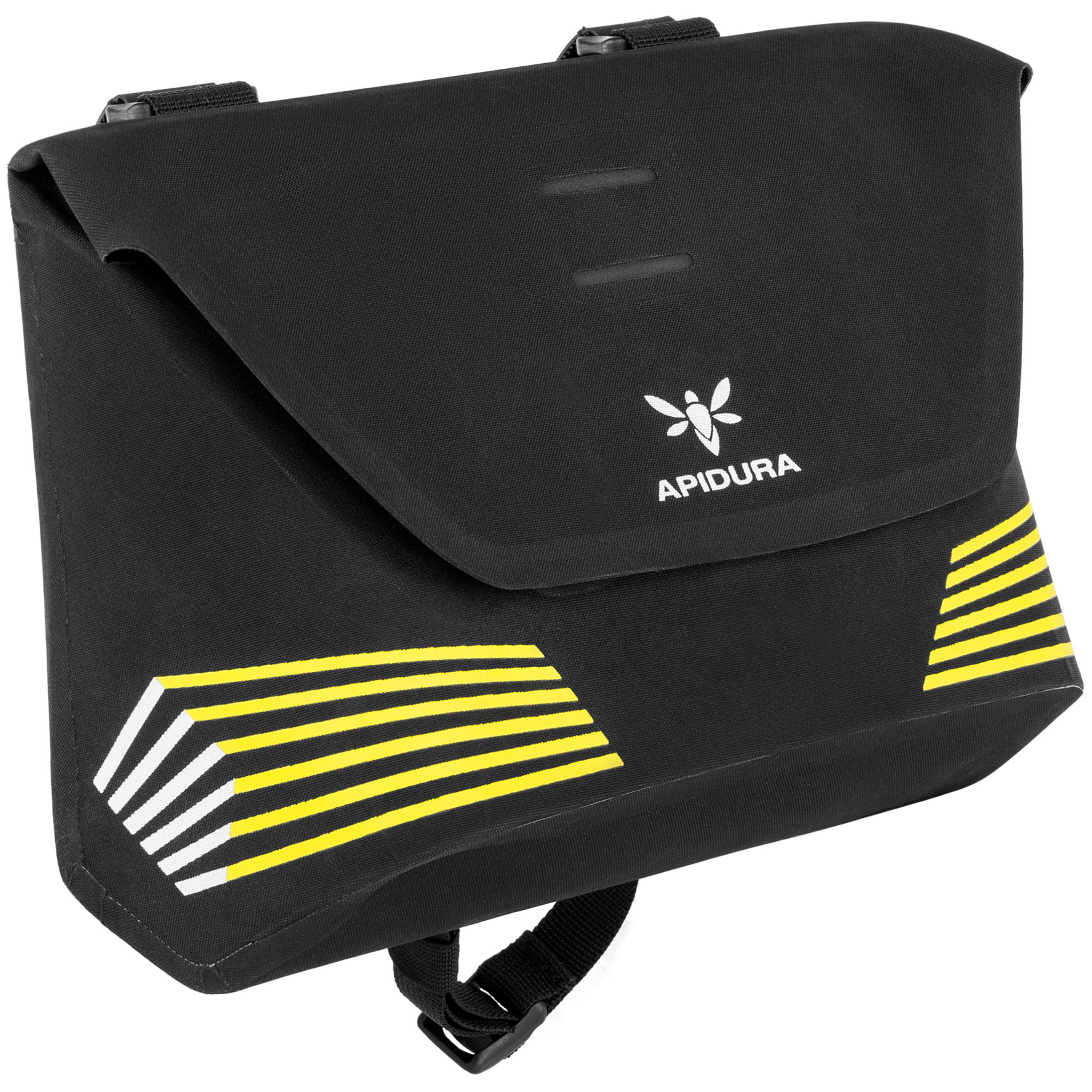 Repair Vs Replace
The mentality and ethos at Apidura is to produce a quality product that lasts a long time and if it breaks, it can be repaired. Although this is arguably detrimental to sales, the reasons behind this philosophy are admirable.
Apidura back this thinking up by offering a full free repairs service on all Apidura bags to ensure that their products don't get sent to landfill while still being useful and useable. No matter how damaged your bag is, Apidura's repair team will try and fix the bag where possible, rather than replace it. In the unlikely event that the bag is damaged beyond repair as a result of a manufacturing defect, Apidura offer a lifetime warranty on all of their products.